Renovating for Resale – What you need to know
Spring is traditionally a busy time of year for homeowners. Finally getting back out into the garden after a long, wet winter, or kicking into some of those household maintenance tasks now the weather is warmer and the days are getting longer. For others it's a time to get your house ready to sell.
For homeowners looking to sell up, it can be difficult to know what tasks to tackle ahead of your first open home. What home improvements or renovation projects will pay off in your final sale price? How do you make sure you don't overcapitalise? What projects do you have the time and skills to take on yourself? What projects would you need to pay a professional to tackle?
We take a look at some of the key considerations when renovating for resale in this article – what is worth doing and and will attract the best possible purchase price for your home?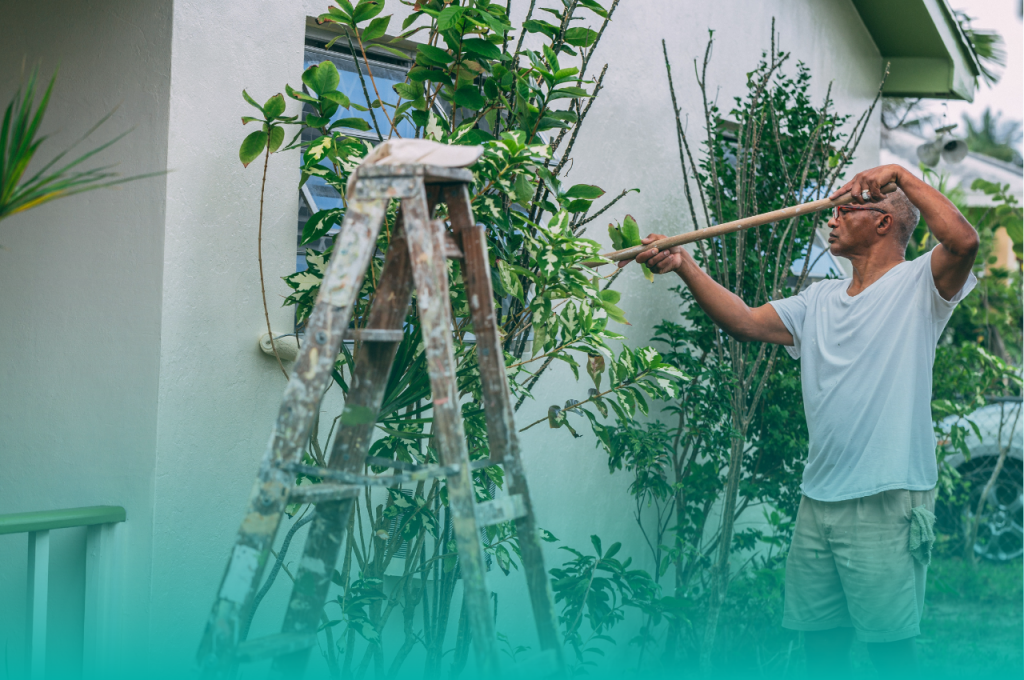 Home improvements for resale
Typical projects you'd consider when putting your home on the market can vary greatly in the cost to realise. From a garden tidy and painting your front fence to enhance your street appeal, right through to updating your kitchen to add a 'wow' factor to your key living space. Your budget and timelines may not stretch to all of the projects we detail below, but can certainly help you decide whether the cost and effort will result in the sale price you're aiming for.
Improve your street appeal
This can range from tidying overhanging branches in your front yard, sowing grass seed or painting or repairing the front fence. It could also include new paving stones or a fresh coat of paint on your front door. Your street frontage is key to your real estate photography and you'll have potential buyers 'driving by' your home to see if they want to come to an open home. It's well worth your time freshening up or improving this important area of your home.
Kitchen renovation
The thought of having to put in a new kitchen can be a turn off for some buyers due to the expense, for others it's an opportunity to put their own mark on your home. Consider freshening up your kitchen so it is appealing and at least feels like your buyer could live with the current kitchen. Renovation tasks to consider here may include a modern stone bench top, or replacing cabinet fronts or tapware. Perhaps the simple addition of a breakfast bar can turn your kitchen from utilitarian to a space for family to gather.
The kitchen is certainly an important room that will help to 'sell' your house if it feels homely and inviting rather than functional or sterile.
Bathroom upgrade
Bathrooms are another room of your home that will feel like a lot of work for a potential buyer if they're not tidy and presentable. New fixtures and fittings can go a long way to freshening up this important room of the house, or replacing flooring that is past its best. Sometimes a fresh coat of paint and an extractor fan will do the trick.
Home office
With more people wanting to work from home these days, a focus on a home office space is important. Whether that's a spare bedroom styled as a home office, or making use of an underutilised space to serve as an office nook, think about how this important working space can be incorporated into your home.
Maximise storage
Declutter your linen cupboard and walk-in wardrobes so potential buyers can get a feel for space. It may be worth looking to add built-in cupboards or shelving if your home is light on storage options as this is a key item that buyers will be looking for – especially for families.
Flooring improvements
Is your flooring fit for purpose? Shabby carpet or scratched floorboards can be a turn-off for some buyers. It can feel like an expensive or time-intensive task to have to re-carpet or sand floors before moving in. If your house is tidy and presentable and it's just the flooring letting it down, consider investing in replacing or professionally cleaning your carpet, or sanding and polishing your floorboards so they help you create the right first impression for a potential buyer.
A fresh coat of paint
If your home is a patchwork of paint colours and style trends, consider an internal or external paint to tidy things up before you go on the market. You may just need a weatherboard paint, or a quick touch up of your window frames. No matter your problem areas, presenting your property as fresh, maintained and ready to move into is never a bad thing.
Energy efficiency
It's hard to imagine energy costs dropping any time soon so ongoing energy costs will be a focus for many buyers. Do you have a modern heat pump? Is there more than one heating source, such as a fire? Do you have double glazing or an HRV system to ensure your house is more energy efficient? Solar panels and an electric charging system for an electric car are other topical items some buyers will be looking out for.
Depending on the age of your windows and doors, getting your home double glazed could be a great investment. Equally, upgrading your heat pump or installing an HRV system could remove one more barrier for a potential buyer.
Is it worth getting a Renovation Loan?
A Home Renovation Loan, also called a Home Improvement Loan or Home Repair Loan can provide renovation finance for more expensive projects. If you have renovation projects you're keen to tackle, a Home Renovation Loan can work well. For many people, they're likely to repay the loan as soon as they sell their house. That's where a lender like Nectar can be helpful as they allow you to apply for a Home Improvement Loan, but there are no early repayment penalties if you choose to repay the loan earlier than your agreed payment term.
We'd strongly recommend asking industry professionals for advice on what renovation for resale projects would make sense for your home, in your area, in the current housing market. This is especially important if you're considering applying for a personal loan to help you complete the project. An industry professional can provide you comfort that you're likely to recoup your renovation costs or sell for your target sale price before committing to a costly renovation project.
Useful professionals include residential valuers and local real estate agents. They'll be able to give you a good feel for opportunities in your local housing market, what your home is currently worth and how to stand out from other similar homes for sale. They can also help you prioritise the projects on your home – you can work through your list as time and budget allow.
How much can I borrow to renovate my house?
With Nectar you can borrow unsecured up to $30,000, or as little as $2,000. Use our home improvement loan repayment calculator to find out how much you could get. 
Getting started with Nectar
Need a great rate on a home improvement loan? We'd love to help with your personal loan requirements. Check out how much you could borrow and learn more about our personal loans. You can get started with Nectar and get a personalised loan quote online which will include your interest rate, maximum borrowing amount and repayment options. Borrow better, faster today!*
*Nectar's lending criteria and responsible lending checks apply.