Unexpected home repairs and how to pay for them
Unexpected home repairs can escalate in cost quickly. What might appear to be a quick fix, or a simple trip to a hardware store to get the necessary equipment or materials required, can spiral into a job that needs a fleet of tradespeople to complete the not so small project for you. Getting on top of maintenance issues promptly can reduce the likelihood of significant repairs and hopefully cost.
Your house insurance will cover many large scale repairs, but you'll need to check your insurance policy to understand what's covered under sudden or gradual damage, and if your excess amount makes it viable for you to make an insurance claim at all. Let's say that a tree fell onto your roof in a significant storm – you're likely to engage with your house insurer to fix the problem promptly as you may no longer have a home that is weather tight.
If you have a few squeaky or rotten floorboards in your living area, you may decide to replace the flooring with replacement floorboards or an alternative floor covering such as carpet. This is a project your house insurance is unlikely to cover. Either the excess will be too much to cover the few faulty floorboards, or your particular insurance policy may not cover what they consider to be gradual damage.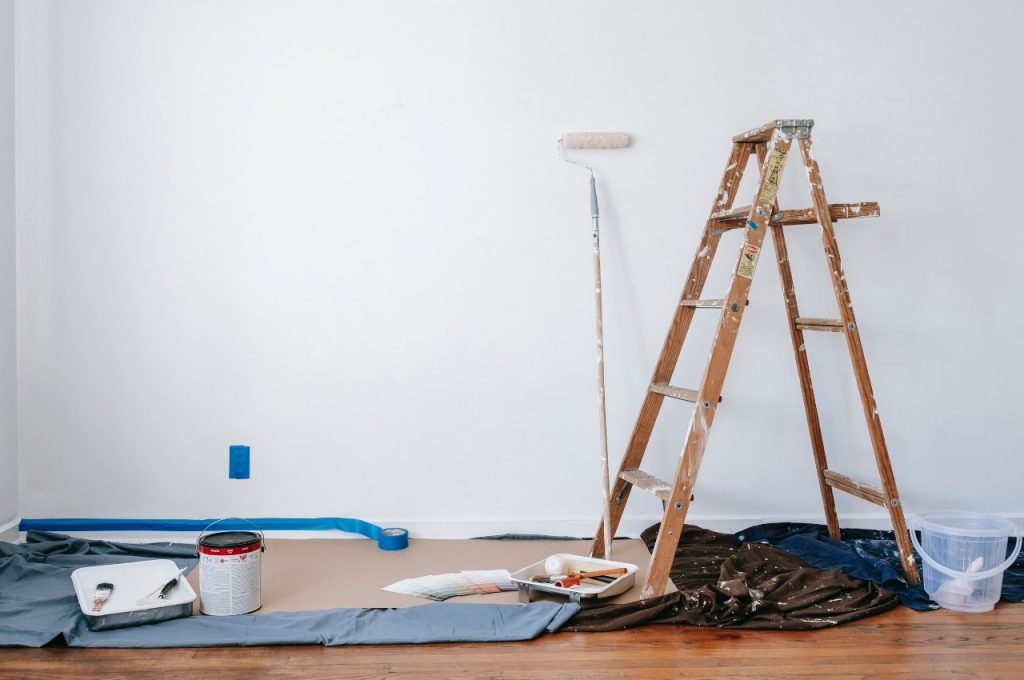 What is a Home Renovation Loan?
Whether you consider your project to be a home renovation, home improvement or a house repair, you are able to access funds via a personal loan to finance your project. Your project cost can vary from a simple floorboard replacement, to carpeting your entire home or renovating a kitchen or bathroom. We've previously outlined typical renovation costs. The important thing to remember when considering repairs or a renovation is to do your homework on costs before you lift a hammer. Understanding the scope of the project from a trusted tradesperson, or detailed costing of materials can ensure you're well prepared for the project and understand whether you can tackle it from existing savings, a few purchases on your credit card, or whether a personal loan could be a useful way to finance larger projects.
Is it worth incurring debt for home renovations?
For some people, improving their quality of living, or adding to the value of their home, and potentially their most valuable asset is a great reason to take on a small amount of debt to complete a project properly, or up to a certain standard. Some people may be happy to slowly manage a kitchen renovation payday to payday as they have money in the bank, and have the time available to do much of the work themselves. Home renovators who tick this box are often happy to keep living in the property during the project and don't mind the chaos and mess that can happen during the course of a renovation project.
For others though, borrowing the money and completing a project quickly may be more important – especially if you have young children or limited time or practical skills.
How do Home Improvement Loans work?
A home improvement loan or home repair loan is a personal loan that you can use for improvement, repair and renovation costs for your residential home. Unlike a formal construction loan from your bank, with a personal loan lender such as Nectar, we don't require extensive paperwork and quotes from all your tradespeople, or a home valuation to approve the funds. This means you can cost out the work needed, apply for the loan amount you need and secure your house improvement funds in your account on the same day. A great solution for urgent repair or maintenance projects around your home.
How much can I borrow to renovate my house? A Nectar Home Improvement Loan allows you to borrow up to $30,000 of unsecured lending. Our simple, seven minute online application is also helpful to progress your project quickly. Loan terms vary between six month terms, right up to four years. You can also tie your repayments to your pay cycle and pay weekly, fortnightly or monthly. We always recommend you compare interest rates and customer feedback across lenders, so you know you're getting a good deal.
Is it worth it to get a renovation loan? A key decision for you in deciding whether to apply for renovation finance is whether the home improvements will add to your quality of life in your home, or to the resale value of your home. It's also worth considering that if your project comes in under budget, Nectar does not charge penalties for early repayments – helping you repay your personal loan quickly.
How to finance a renovation?
Canstar has a useful article on understanding how to finance a renovation. We've summarised the key points below:
Self fund with savings, or your home loan offset or redraw facility – ideally you'll have the money available to finance the project yourself. You may have a savings account specifically for home improvements, or have overpaid your home loan and are able to drawdown funds using your offset or redraw facility.
Refinance your home loan – for larger projects, such as a significant renovation (think double glazing, removing internal walls to change the layout or floor plan, complete kitchen makeover), you may want to consider using the equity in your home to top up your loan.
Construction loan – your bank will usually need detailed quotes for the entire project to apply for this type of loan, and may request a post-renovation valuation of your home too.
Personal loan – if the above finance options aren't quick enough or flexible enough for your project, or perhaps you don't need to borrow enough to make the bank paperwork worth the hassle, a personal loan could be good middle ground for you.
Other options such as credit cards – if your home repair or home renovation project is on the smaller side, then purchasing materials such as paint or tiles on your credit card could make the most sense. Be aware that not all tradespeople will accept credit card payments, so this may not be the best option for any project services you need to pay for.
How much can you borrow for a Home Improvement loan?
With Nectar you can borrow unsecured up to $30,000, or as little as $2,000. Use our home improvement loan repayment calculator to find out how much you could get.
Getting started with Nectar
Need a great rate on a home improvement loan? We'd love to help with your personal loan requirements. Check out how much you could borrow and learn more about our personal loans. You can get started with Nectar and get a personalised loan quote online which will include your interest rate, maximum borrowing amount and repayment options. Borrow better, faster today!*
*Nectar's lending criteria and responsible lending checks apply.