How to Apply for a Personal Loan with Nectar
Applying for fast personal loans with Nectar couldn't be simpler, faster, or less stressful. We outline the process for you below so that you know exactly what needs to happen, and it's as simple as three easy steps.
Apply for a Loan
First, use the slider to tell us what you need. You're able to apply for a personal loan between $1,000 and $15,000, and you'll need to specify what you're borrowing the money for. You're able to borrow money for debt consolidation, bills, your wedding, a vacation, rent, or any number of other uses of loans.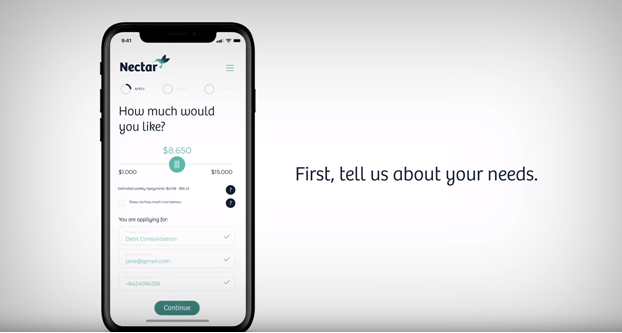 If you want to get an idea of what amount you want to apply for, try using the best loan calculator in New Zealand to see what your weekly repayments and interest rates will look like.
You're also able to tell us exactly what you're applying for, if the option isn't there. Then we just need your email address and phone number so that we can get in touch with you to confirm your loan, and send you your e-contract if the loan is approved. The usual lending criteria for a loan apply.
Living, financial, and employment status
In order to approve your loan, we also need to get to know you a little better. We'd like to know some basic things like your address, how long you've been living there, and whether you are owning or renting. We also need a valid form of New Zealand identification; a New Zealand Driver's Licence or Passport does the trick. This is one of the top reasons why applying for a loan with Nectar is so easy – we only need very basic information for your loan application, so the process is very quick!
Get Verified
Now you're onto the verification stage, where you can connect your bank account so we can confirm your income and expense information, and so that we know where to send the money once your loan is approved. This is as easy as selecting your bank's name from a drop-down list and providing your account details.
We use bank-grade encryption to make this process safe and secure.
The Offer

Once you've followed all of these steps, and if approved, you'll receive an offer tailored to you. You can choose to borrow up to the limit you are pre-approved for, then customise the repayment options based on what makes the most sense for your lifestyle. For example, you may choose between a 6-month term and a 36-month term, which will change your weekly, fortnightly or monthly repayment rate.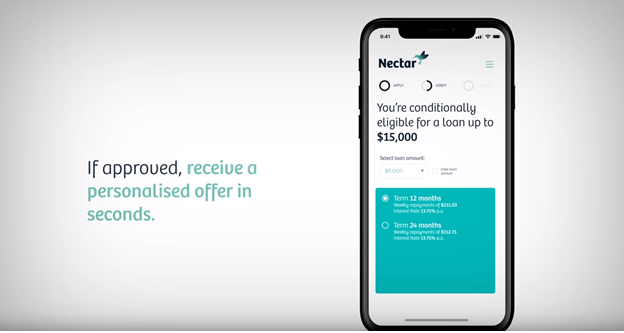 Once you're happy with the terms, accept the offer and our team will do a final review of your loan and contact you if necessary.
Get Cash
Once you have been approved, the final step is to go into your email and sign the e-contract we will send you. The funds will arrive in your connected bank account, usually on the same day! It's just that easy.
Apply for a Personal Loan with Nectar today
If you have any questions, have a chat with Nectar's charming artificial intelligence bot James. He can help you with your personal loan enquiry, answer your questions, tell you about Nectar's products, and even give you a quote. He's also able to put you through to our friendly customer care team if you want to talk to a person. So, don't wait, apply now for a simple, straight forward and fast personal loan.
*Nectar's lending criteria and responsible lending checks apply.